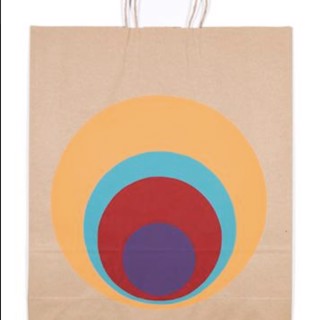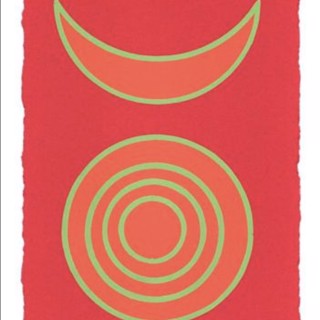 A circle should be easy to describe, but this one isn't. Its edge is a thick rim of sky blue, except for along the right side, where it tapers into midnight. Within this ring is a color field sunrise, crimson at the top and orange at the bottom — although "orange" doesn't do justice to how the hue glows on the (somewhat incongruous) background surface of a brown paper shopping bag.
This is Land of the Sky Beings, a serigraph print by Terran Last Gun that appears in Paper Bags, a new solo show opening at Hecho a Mano on Saturday, June 27.
The image has a sleek, graphic sensibility that would be at home on a mod shift dress or a high-end designer handbag. It's a little bit '60s, a little bit '80s, and very au courant. And it's firmly rooted in the culture of the Southern Piikani tribe from Montana.
"I've explained to various people over time my inspiration and where it comes from, and it can be hard for people to write about. It's complex and layered," says Last Gun, 31. "I'm originally from Browning, Montana, on the Piikani Reservation, also known as the Blackfeet. A lot of my work reflects my nation — our history, culture, and aesthetics. Really, it goes back to our painted lodges. We had a lot of real simple geometric imagery to symbolize the world around us."
Brightly painted lodges have existed among the Piikani for thousands of years, and their imagery is handed down through families, Last Gun says. Lodge designs are broken into three zones: Earth at the bottom; animal spirit helpers in the middle; and the sky world, or world above, at the top. The 10 15-inch by 23-inch prints in Paper Bags feature the bold squares, triangles, and circles of the Earth and sky zones, sometimes in a primary color palette of red, yellow, and black, and sometimes in secondary or complementary colors.